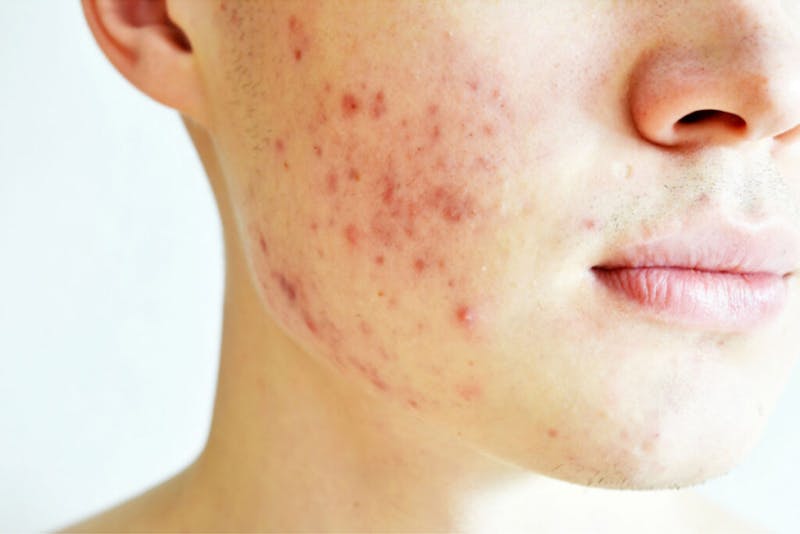 Long after your acne breakouts go away, you continue to be reminded about it with the scars that it leaves behind. If you are ready to forget about your acne problem once and for all and improve your appearance, you may want to consider laser acne scar removal.
Laser treatment for acne scars is a method of acne scar treatment that can considerably reduce unsightly acne scarring from your face, back, and other parts of your body. Laser treatment is a specialty of Dr. William Thompson of Denver, CO. If you are interested in renewing your look with acne scar laser treatment, here are some things to consider.
Pre-Care for Laser Procedures
You will get the best results from laser treatment if you are a healthy nonsmoker with realistic expectations for the procedure. You should also faithfully follow all pre- and post-procedure instructions for maximum benefit.
First Step
The first step is to schedule a consultation with Dr. Thompson. He will go over your goals, make sure you have a realistic idea of what laser treatment for acne scarring can do for you, and devise a treatment plan.
After reviewing your medical history and your desire for a better appearance, he will go over the different procedures for acne scar treatments. He can recommend the best course of action to treat acne scars for your situation.
Pre-Care Instructions
There are several common pre-care instructions for people scheduling laser treatments for acne scarring. Limiting sun exposure and using sunblock of at least SPF 30 is important both before and after laser treatments for improving acne scars. This includes reducing exposure to sun lamps and tanning beds.
You cannot have a tan or sunburn when you have acne scar resurfacing treatment. Trying to use laser technology to treat acne scarring when you have a tan could cause burning or discoloration of your skin.
What To Do In The Weeks Leading Up To The Procedure
If you do smoke, you should not smoke for 2 weeks prior to your laser treatment. You should not use products with retinoid or glycolic acid for at least 2 to 4 weeks before the laser acne scar removal.
Let Dr. Thompson know about all of your medications and supplements. There are many that you should avoid in the weeks leading up to laser skin resurfacing for acne scars. For example, Aspirin and Vitamin E can slow the healing process.
On the other hand, if you are prone to cold sores, Dr. Thompson might suggest prophylactically taking antibiotics or antivirals before your laser acne scar removal.
Laser Procedures to Treat Acne Scars
Ablative Vs. Non-Ablative Lasers
Laser technology for acne scars uses heat and light from the laser. There are two main types of lasers that remove the top layers of your skin cells, exposing the less scarred, smoother skin underneath.
Nonablative laser resurfacing only increases collagen production to encourage fresh, new skin growth. The laser can focus on the blood vessels in the scar, reducing the inflammatory response and improving blood flow through the area.
Fractionated Lasers
Fractionated laser resurfacing for acne scars is another alternative. It focuses the laser on a fraction of the skin tissue at a time. This type of laser targets the scarred tissue while leaving the surrounding skin intact. It is possible to treat both the top layer and the layers underneath at the same time with this focused acne skin resurfacing method.
Number Of Appointments And Recovery Time
Laser acne scar removal can be done in only one treatment or in multiple sessions. A major skin resurfacing appointment may require general anesthesia, while limited treatments can be performed with local numbing. The recovery time for the major treatment is much longer than the recovery time for each less invasive procedure.
Treating acne scarring with laser treatments is a very precise approach. It targets the skin cells that are scarred while leaving the normal skin immediately next to the scarred area untouched. With a skilled practitioner like Dr. Thompson, you can get the best results with the least amount of downtime after your laser acne scar removal.
Side Effects
Side effects of a laser resurfacing acne scars procedure depend on the type and intensity of the procedure. A one-treatment ablative laser acne scar removal will have the most side effects, while a multi-treatment acne skin resurfacing without ablation will have minimal side effects.
Mild Side Effects
Simple side effects of these acne scar treatments include swelling, redness, and pain at the treatment site. The pain usually only lasts for a few hours. The redness should be gone within two weeks.
Significant Side Effects
Lasers rarely cause hyperpigmentation or infection of the treatment area. Hyperpigmentation is a darkening of the skin, causing dark spots and darker skin tones in the treatment area. It can happen if the skin is sunburned or suntanned before the treatments.
Signs of infection after treatments include pus, extensive swelling, or fever. If you experience side effects related to infection after your laser skin resurfacing for acne scars, you should contact your doctor right away. Seeing a knowledgeable and experienced physician helps to minimize any side effects of skin resurfacing for acne scar treatment.
Recovery and Post-Care
Even if you choose a gentle multi-treatment, non-ablative procedure, you may notice impressive results almost immediately. With most laser treatments you will have a two-week recovery time.
You might experience a little discomfort, swelling, and even a small amount of oozing or crusting of the skin. Keep in touch with your doctor if you have any concerns during your recovery time. Proper care before, during, and after your laser for acne scars strategy is crucial for the best results.
Avoid Sun Exposure
After laser skin resurfacing for acne, you must be particularly careful about your skin care. Make sure you always apply sunblock if you go outdoors – even on a cloudy day. UV light, which is what causes tans and burns, can penetrate through clouds.
Sun block should always be worn for several months after a laser acne scar resurfacing treatment.
Special Skin Care Products
You also may need special skin care products applied daily to help you achieve the maximum results from a laser skin resurfacing acne visit. Keeping the area clean is important and you may need to refrain from applying makeup as your skin heals. It is vitally important to avoid any infection or inflammatory response at this vulnerable time.
You may notice improvement right away, but the look of your skin will continue to get better and better in the weeks and months after the laser resurfacing of acne scars treatment. While your skin is still subject to the normal aging process, the results of your laser acne scar removal are permanent.
Cost
Insurance does not usually cover laser acne scar removal. Let's look at some of the different factors that influence the cost of this treatment.
Factors That Influence Cost
There are several factors that go into the cost of laser acne scar resurfacing treatment. If you need more gentle treatments to get the results you need, the cost of the entire procedure will increase. If your skin responds well to the treatments, you may need fewer visits. Making sure you are healthy, with adequate calorie, vitamin, and mineral intake will help your skin adapt.
The experience of your physician affects the cost of the procedure as well. However, this is one area where you don't want to skimp on the cost. You will get the best results with the most experienced doctor.
Considering the various factors that go into calculating the cost of this treatment, it's best to get an accurate quote during your consultation after the doctor has accurately assessed your needs.
Dr. William Thompson at Thompson Facial Plastics
Dr. William Thompson had an early interest in facial plastic surgery. He completed a medical fellowship where he perfected techniques for removing acne scars with lasers. He takes great pride in providing the Denver area with high-quality medical care, including laser acne scar removal.
Schedule A Consultation With Dr. Thompson For Acne Skin Resurfacing Today
Acne skin resurfacing can improve your appearance, self-esteem, and confidence. Dr. Thompson offers acne scar resurfacing treatment. If you are wondering if you are a good candidate for laser acne scar removal, call Dr. Thompson today for a private consultation in his Denver office. Call (303) 622-3288 to schedule an appointment now.
FAQs
Is laser treatment good for treating acne scars with my skin type?
Yes, it might not totally eliminate deep acne scars, but you will notice a big improvement in your appearance. Dr. Thompson can do a complete evaluation and look at ice pick scars, atrophic scars, boxcar scars, and any other skin concerns you may have.
How many visits will a laser treatment take?
Depending on your needs, you might need one treatment, three treatments, or more. You can discuss your specific needs and goals with Dr. Thompson for an accurate treatment number estimate.
What type of laser will be used during my laser acne scar treatment?
Dr. Thompson is skilled with most lasers and can perform the best treatment for your condition. Dr. Thompson will recommend the best laser based on your specific needs and goals.